Our Beginnings
---
Few regions of the world make a better home for the outdoor-inclined than the Pacific Northwest. Here, on the edge of a continent, glacier-clad mountains yield to lush, old growth forests that stretch down to emerald-green rivers whose salmon run through saltwater estuaries, out beyond the sentinel sea stacks of the wild and mystic Olympic coast. Ours is a stunning and varied landscape with world class opportunities for just about every type of adventure imaginable and inspiration to spare.
It was just this inspiration John Burroughs, Neil Anderson and Jim Lea drew on when they invented the first Therm-a-Rest® self-inflating camping pad fifty years ago, searching for a better night's rest under the stars. Cascade Designs, Inc. would become the company they sold that first product under–a name that paid tribute to the place they loved and, as a crew of engineers, their passion for crafting smart solutions to real world problems.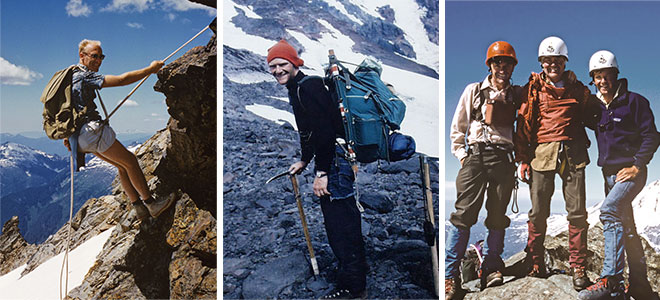 Left to right: Jim Lea; John Burroughs on Mount Adams in the early 70's; John, Tex and David Burroughs in 1985
Since that first air pad, the Therm-a-Rest brand has gone on to define an entire category, introducing a string of ground-breaking innovations along the way, and remaining the number one name in outdoor comfort worldwide.
Five decades later, Cascade Designs has grown to be not just Therm-a-Rest, but a parent to some of the most respected brands in the outdoor industry and beyond. A recently retired John Burroughs remains on the board of Cascade Designs, Inc., and the corporate office, along with our repair shop and some Therm-a-Rest manufacturing remains in the industrial SODO neighborhood of Seattle, just miles from where it all was born.
To accommodate growth and our commitment to build what we sell in-market, we also opened manufacturing and distribution hubs in Midleton, Ireland, serving the European market, and Reno, Nevada, where added space and improved logistics help us better serve a rapidly growing US market.
As John Burroughs emphasizes, the hands-on aspect of this business philosophy is essential to being a leader in innovation and service: "We believe manufacturing the majority of our gear in our U.S. and European facilities is an essential element in maintaining quality and innovation at pace. This also helps us keep a smaller carbon footprint overall and to exceed our customers' expectations of service."